We had an eventful arrival that was handled superbly. We managed to skid and hit a reindeer not long in to the journey. Nothing says welcome to lapland like hitting one of Santa's reindeer. (Ha ha) the bus driver Riku was great and tour guide Carly was great at reassuring all was okay. They went to the trouble of making sure that there was a reindeer with bandages on it being cared for by an elf when we arrived to the reindeer farm reassuring the children all was okay. (For my eldest who saw it happen he was very much relieved to hear and see this) so credit to Carly and gang.
Facilities
We had the most magical time in Phya. The hotel was lovely warm with friendly staff and food was lovely.
The tour guide was full of enthusiasm and was wonderful with the children.
We stayed in the apartments which were a walk away from the entrance to the hotel. This was handy as it gave us the option to stay playing in the snow tobogganing and pop in for something to drink and a snack without having to head back to the apartment each time. It also meant the kids could go to the entertainment that was on offer and play with other children they had met throughout the stay. The Apartment was well equipped lovely sauna great after being out in -28. The clothes warming / drying cupboard was a must. Though the snow was fluffy it shook off nicely but soon clothes were wet so it was great for drying boots out gloves hats etc which is a must at such low temperatures.
There is a shop at the end of the resort, however it is a fair walk uphill in the snow (even the coach struggled) and realistically you don't need to buy anything there, bring coffee and hot chocolate in suitcase. We have a child with nut allergy and the hotel we great making sure there was an alternative dessert etc for him at each meal. The same when out and stopped off for food.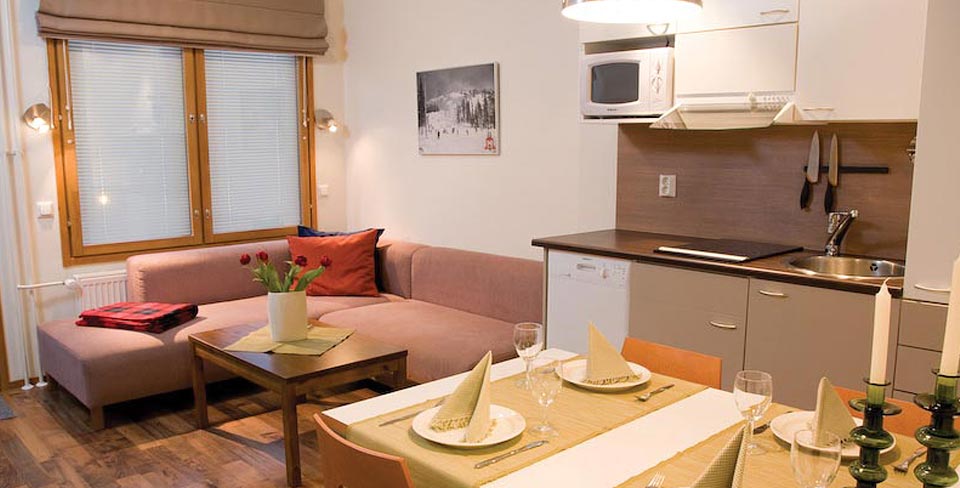 The Magical Part
It seems like we were in a dream. The photos prove that we actually experienced what we thought we dreamt. We spent time in the enchanted forrest. ..It was like being in Narnia. Without spoiling it for others each activity was planned well we never crossed over with other coaches. Though you were in a group you still had that personal family experience. The Finnish Authentic Elves were superb added even more magic to the experience. Standing watching your children interact throwing snowballs with the elves making snowmen etc you can just see the magic sparkle in their eyes and you become drawn into it even more.
The Husky farm was amazing. It's a must to try and mush your own team, it's hard work but whizzing through the forrest at top speed being pulled by huskies is just an incredible experience.
The reindeer farm was lovely it was extremely cold that day -24. We were wrapped in blankets and reindeer skin and pulled along through the forrest. It was beautiful so quiet. The only sound to be heard was that of the reindeer bells jingling and crunching of snow under hooves. Reindeer were scattered throughout the forest what a wonderful sight. It was cold but magical though we had icicles on our eyelashes it was worth it.
The kids had a ball so much so they cried when we had to leave. There was so much to do throughout the day you were never looking at a watch wondering when you were heading home.
As there is little daylight hours your days starts early and you get totally confused on what time of the day it is. You loose all track of time. However you see the most beautiful skies in Lapland. Beautiful sunrises and sunsets. Pink hues in the skies. And of course if you are lucky the Northern Lights.
As for the big man himself.well what can I say, we truly met the real man himself there is no doubt about it.
Make sure you have your video camera ready and be ready for that butterflies in your stomach moment and the return of your childhood hopes and dreams as he is real.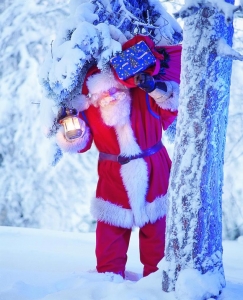 The whole experience was a once in a lifetime experience though you will be wanting to return without a doubt.
I am glad we chose the 4 day trip so much to do but yet enough time with no rushing. Phya is beautiful and if looking for the authentic feel and experience the search for santa is the one.
The apartments were lovely all the same facilities as the cabins (cabins I believe were fab however quite a trek in the snow uphill in snow suits and those with young kids stayed in the cabin on return from each day out and missed out on the hotel entertainment each night)
I would highly recommend the Phya resort. We have a 10yr old and 6yr old and after our adventure we have two boys that every much believe in the magic of Christmas.
It's a holiday that is more than just a holiday. It's an experience, it's pure magic and it's memory making at its best. It's a trip that has to be done at least once. It's expensive but worth the memories made.