Christmas Sparkle – 2 Night Trip
( From 
€1795

per adult & From €1695 per child)
This 2-night short break to visit Santa is set in Suomo or Ruka Valley. The resorts are two of Santa's favourite Lapland locations and in Suomu and Ruka Valley you can meet some of the traditional elves who work tirelessly to ensure that everything runs smoothly for Santa on Christmas Eve. Treat your family to a magical experience in Santa's secret home this winter.
| | |
| --- | --- |
| Depart From: | Dublin |
| Duration: | 2 Night Trip |
| Available From: | 2nd, 8th, 9th December 2023 |
CHRISTMAS SPARKLE
This magical 2 night/3 day Lapland Santa holiday based in the peaceful village of Suomu or the picturesque Ruka Valley, on the edge of the Valtavaara National Park.
Day 1. The Journey Begins!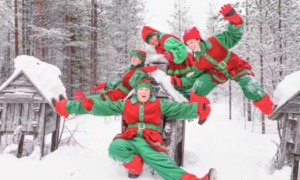 The excitement builds, as you board the aircraft ready for take-off.
On arrival in Lapland, our guides will be there to greet you. On the way to Suomu or Ruka Valley it's time for the children to learn about how to become an elf and the essential tasks they will need to complete in order to graduate from Elf School.
In the resort, we'll stop to collect thermal snowsuits and boots, then it's time to check into your accommodation. In this picturesque setting, you can stay in a cosy log cabin with the added bonus of a sauna and log fire or enjoy a relaxed stay at the recently upgraded Arctic Circle Hotel in Suomu. In Ruka Valley, you have a choice of stylish apartments at the Hotel Ruka Valley
After dinner, meet more of the traditional Elves, Santa's excitable helpers have been patiently waiting for you to arrive. So, let's quiz them at length about tomorrow's activities. What will be your special elf name?
For those staying in Ruka, there is the opportunity to go toboganning on the arrival evening.

Day 2. Let the fun begin, it's time for Elf School
Today, you must complete a full set of tasks to make the grade as one of Santa's Special Helpers. The huskies and reindeer know that you have travelled from afar and they are determined to help you to complete your mission.
Join Wendy Wood, Santa's chief toymaker, to experience a range of traditional Arctic activities. Every apprentice Elf must master tobogganing, learn to drive a snowmobile, experience a traditional husky sleigh ride and meet Santa's faithful reindeer.
At the Post Office, you will also need to learn how to sort and stamp the mail that Santa receives from children all over the world. Yet, which of these traditional Arctic activities will lead you to Santa's secret hideaway?
When you finally discover his home in Lapland, Father Christmas will be delighted to meet you and every child will be rewarded with a special gift from him.
As we return to resort, enjoy a classic festive dinner; followed by a Graduation Party to commemorate your achievement of becoming one of Santa's Elves. Will Christmas Sparkle join you at the party?

Day 3. Say Farewell to Santa and the Special Elves
Enjoy a leisurely breakfast this morning. Then join your fellow Elves outside for some final snow games before it's time to leave Lapland.
After lunch, it's time to say goodbye to the Elves and the magical world of Lapland before returning to the airport for your flight.
Price Includes:
Reindeer Experience
Feed the reindeer, learn about traditional Sami culture and enjoy a magical reindeer sleigh ride. The entire experience lasts around 60 minutes.
Adult & Junior Snowmobiling
An introduction to snowmobiles. A mini-drive for adults and children across a prepared track.
Snow fun & games
Tobogganing, snowballing, snow angels & more.
Santa's Magical Post Office
Join the elves and sort those very special letters!
A Gift from Santa
Santa gives your child their most special present
Fully Inclusive Itinerary
All the listed activities are included as standard. There are no hidden extras, and no unexpected "upsells".
Return Flights Chartered With Jet2
Dublin – Terminal 1
Resort Transfers
All airport and activity coach transfers are included.
Elf School Graduation Certificate
Souvenir Book
Husky Experience
Learn all about Arctic huskies and enjoy a traditional sleigh ride. This magical experience will last around 60 minutes.
Santa's Special Elf School
It's time to train to be an Elf! Complete a series of tasks, aided by Santa's wonderful helpers, and you too will become an Elf.
Santa's Special Elves
Meet Santa's most trusted helpers and prepare for mayhem, magic and giggles galore!
Private Family Meeting with Santa
Your family's private time with Father Christmas.
Graduation Party
Put on your dancing shoes and join your fellow Elves for a special celebration!
2 Nights Accommodation
Hotel, apartment, Lodge and log cabin options available.
All Meals Included
Buffet breakfast, lunch & dinner included.
Snow Suits & Boots
Cosy thermal suits and boots supplied free of charge.
Date
Departure Airport
Prices in €s
per paying person
Adult
Child 
December: 2nd, 8th & 9th
Dublin
From €1795
 From €1,695
Suomutunturi Hotel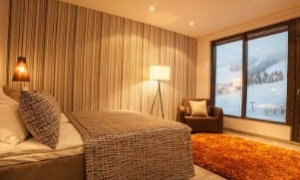 Suomu
This modern hotel, located in the remote winter wonderland of Suomu, offers a variety of spacious rooms and the decor is in keeping with contemporary Scandi design.
From €1,315
Departs: 6th, 8th Dec 2023
Arctic Circle Hotel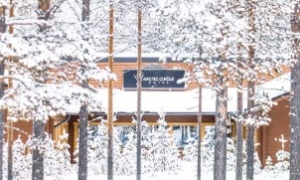 Suomu
This is a small yet stylish hotel in the centre of the resort. Offering twin and family rooms with ensuite-shower rooms.
From €1,315
Departs: 7th, 9th Dec 2023
Suomu Log Cabins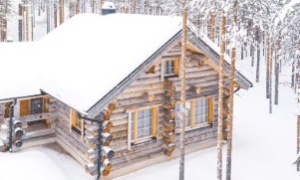 Suomu
Suomu cabins are generally open-plan and well-equipped with kitchenette, sauna/shower room, drying cupboard and log fire. Each cabin provides a comfortable sleeping area for 4-6 persons. The cabins are approx. 15 mins walk from the centre of resort.
From €1,315
Departs: 6th, 7th, 8th, 9th Dec 2023
Suomu Lodges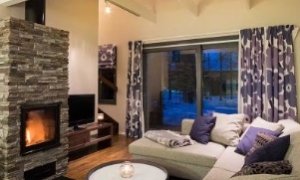 Suomu
These lodges offer great comfort and are perfect for families, and for those travelling with grandparents and friends
From €1,315
Departs: 6th, 8th Dec 2023
Aurin Village Apartments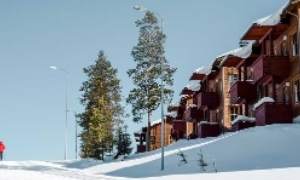 Ruka Valley
The Aurin Village Apartments are situated just a short ride on the ski gondola from Hotel Ruka Valley. The apartments are comfortable and tastefully furnished throughout and are suitable for 4-6 people. A great base for your Santa holiday experience.
From €1,715 
Departs: 2nd Dec 2023
Valley Apartments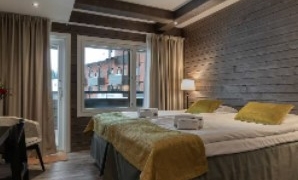 Ruka Valley
The Valley Apartments are set within the Hotel Ruka Valley, close to the Voltavaara National Park. Each of the apartments has been stylishly decorated with a hint of Scandi chic and they offer everything you need for the perfect Santa break in Lapland.
From €1,715
Departs: 2nd Dec 2023
Kindly fill in the enquiry form below: