Dear Santa,
We know you are very busy but we wanted to write to thank you for inviting Caolach and I to meet you in Lapland and to tell you about our trip.
We arrived on a lovely Aer Lingus charter flight.  I know you have your sleigh and reindeer so you have no need to use aircraft to get around but as airlines go they are one of the best!  As it was a chartered flight we received a meal and everything so we were well set up when we arrived to Rovaniemi airport!


We were allocated bus No.1 ("One for Onederful!") and we were met by the lovely Reps John, Chelsea and Ryan.  They were our guides throughout the trip.  It was two hours from the airport to our Hotel in Pyha but this journey was made shorter with Christmas stories and songs and a quick stop to collect our snow suits and boots.  We even got to watch a DVD!  Our room keys were handed out to us on the bus so when we arrived to our hotel we could go straight to our room to drop our bags and then go for dinner.  We had a lovely meal that evening.  After our meal it was about 9 o'clock at night but Caolach just had to get out into the snow!  We pulled on our newly acquired snow suits and boots and went out into the night to throw some snow balls!  That plan quickly went out the window because when we went outside of the hotel there was a hill, plus toboggans!  Caolach would have stayed out all night but we had an early start so after an hour of slipping and sliding we called it a night!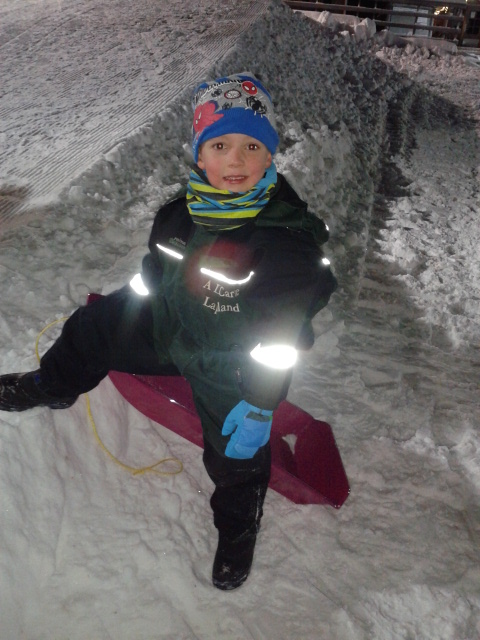 After breakfast the next morning we were whisked off by our bus in search of you!  We were very hopeful to find you but you don't make it easy!  Our first clue provided by the elves led us to a reindeer farm.  There we got to ride in a sleigh pulled by reindeer (Caolach hoped they would fly!) We listened to the farmer who told us all about reindeer.  I presume you know him as he said he minds your reindeer during the summer months.  After that we got to feed the reindeer and we had fun in the snow with the cheeky Tricky Dicky!  He means well Santa but he is fairly tricky he even ran off with my camera at one stage, the messer!  We left the reindeer farm and made our way to the husky farm!  Speedy Sam was there to show us around.  We saw beautiful huskies and even some little puppies.  Then we had a quick sleigh ride around the forest pulled by the huskies.  They were definitely faster than the reindeer!



After lunch our next clue, led us to the elves house.  There we met Noisy Nod and Wendy Wood.  They told us we had just missed you so to cheer us up we had some of Mrs Claus' homemade cookies and a story from the elves.  We got word then that we should make our way to your post office.  Unfortunately you weren't there but we met the lovely Snowy Bowy and she explained all about how all the boys and girls letters get sorted.  We made our way back to the hotel for our evening meal, some funny magicians and more tobogganing!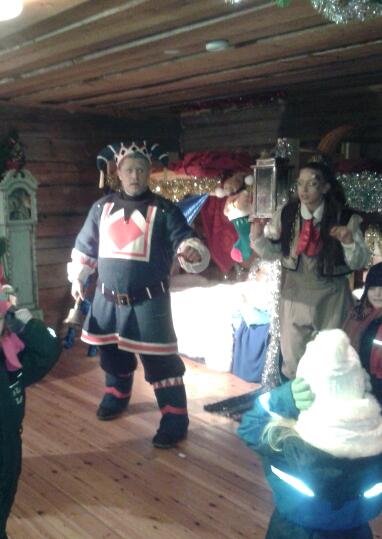 Our last morning and we set off even earlier today and even more determined!  Our first stop was to a hill all set up for tobogganing!  This hill was much longer and faster than the one at the hotel so Caolach was so excited.  As you know Santa we rarely get snow in Ireland so we don't get to have all the fun that you have in it every year.  Although, if we got all that snow in Ireland the country would ground to a halt!!!


Then Santa it was finally time, to meet you.  You really live in the middle of nowhere don't you?  But the North Pole is so beautiful I can understand why.  We had a lovely chat with Mrs Claus before you were ready to see us.   Caolach was not very chatty!  I think he was a bit overwhelmed meeting you!  You are pretty much an icon after all!  He loved his present and was so happy you got his letter.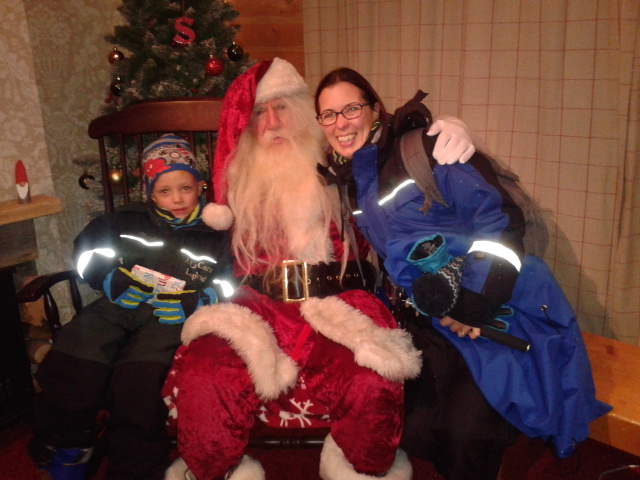 When we left you we went for lunch.  After lunch John, Chelsea and Ryan had another surprise for us.  We were allowed drive skidoos ourselves!  Caolach even drove a kiddies one!  Finally it was time to go to the airport.


We had such a lovely time in Lapland.  It is a very beautiful place.  All the activities we did were great fun.  Thank you again Santa and Mrs Claus.  Can you also thank all the elves as they had everything so well organised for us.
Wishing you a Happy Christmas and have a safe journey on Christmas Eve!
Love Helen and Caolach xxx